Bruce Kenneth, originating from New Jersey, USA he has always appreciated furniture, design, architecture and art from a young age.
Bruce was born without his right hand and had numerous surgeries to correct this left one, but this has never stopped him from learning to use them to create.  Growing up he was more focused on Science and pottery and it wasn't until 2014 when he started woodworking and making pieces of furniture.
With no formal training but harbouring sheer self taught talent, he learnt how to make his first chair, one that was inspired by woodworking legend Sam Maloof. After completing the chair, be realised not only did he have a talent but also a love for furniture making.
"I am influenced by the mid-century period and I like designs that challenge the eye and take you on a journey of movement around the piece of furniture, whether that's a chair or a table. I feel that good design should do that, it should evoke emotion and make you want to touch. That is what I want when people come into contact with my work, I don't want them to be passive with how they interact with it."
He moved to the UK in 2016 to pursue a career in furniture design and it wasn't long before he was spotted by the BBC and invited to be an expert restorer on the show 'Money For Nothing', which he has been on now for 6 series. In 2021 he started two new shows for  Channel 4 'Mend It For Money' and 'The Great Garden Revolution' which returned for a second series. He has also appeared in two series of 'Love Your Garden with Alan Titchmarsh' for ITV1.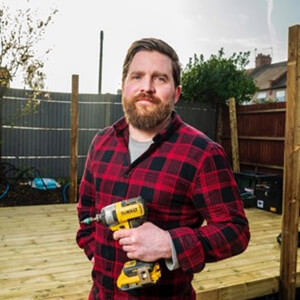 A brand new series of #TheGreatGardenRevolution kicks off this weekend with @brucekennethdesigns – 8:15pm on Saturday night, @channel4 and available soon after on All4