Jenny Powell is one of the UK's most experienced and recognisable presenters, having appeared in some of the most loved TV shows in the UK.
She hosts her own weekend Breakfast Show on Greatest Hits Radio Saturday and Sunday mornings, the critically acclaimed Hot Mess Mums podcast and is developing a TV show looking at her Cape Coloured heritage and her ethnic roots in South Africa.
She first came to prominence presenting the cult music show No Limits for BBC 2 and then quickly became a firm favourite on children's TV, hosting such shows as UP2U, Ghost Train and Gimme 5. She went on to host a huge range of TV shows such as Top of the Pops, To Buy or Not To Buy, Soap Fever, Live Talk, Wordplay,  Jenny Powell's Luxury Uncovered, Food and Wine Adventures, and the hilarious Saturday night show ITV1  BIGHEADS with Jason Manford and Kris Akabussi.
She has also appeared in numerous other shows including Celebrity MasterChef, Come Dine With Me, Lemon La Vida Loca, Loose Women, Pointless and a regular on Through The Keyhole as well as her iconic role on Wheel of Fortune. Jenny is a fantastic live event host, compering several events a week and her professionalism, passion and sense of fun is evidenced by the number of repeat bookings she receives.
Jenny lives in Cheshire with her family.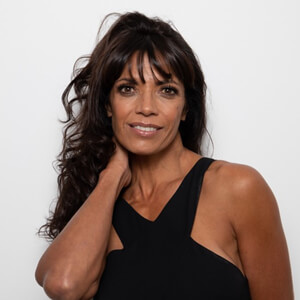 A huge congratulations to all our Team Pangolin radio hosts and DJs – some very, very exciting RAJAR figures released today 📻 🎉
And don't forget to check out everyone live on the airwaves, every week ➡️
👉 Andy Goldstein (@andygoldstein05) on @talksport Drive, weekdays 4-7pm
👉 Charlie Hedges (@charliehedgesdj) on @bbcradio1 with Dance Anthems on Saturdays 4-7pm, and her weekday show with Rickie & Melvin (plus Live Lounge) from 10:30am
👉 Dave Berry (@dave_berry_insta)'s Breakfast Show on @absoluteradio, weekdays 6-10am
👉 Jenny Powell (@jennypowelltv)'s Breakfast Club on @greatesthitsuk, Saturdays and Sundays 6-10am
👉 Kate Thornton (@thekatethornton) Saturday nights on @greatesthitsuk 7-10pm, and her new show, The Smash Hits Years every Sunday 5-7pm